Q&A with Ye Wang, CEO of MetaX Software


Specialized in CTV advertising and operation, MetaX Software starts its operation in Brazil
With CTV (connected TVs) industry booming, advertising on large and smart screens made its way to the center of the market's attention. Smart TVs, Netflix, YouTube, Xbox, PlayStation, Apple TV, Google Chromecast: the wave includes several characters and their penetration only grows inside Brazilian households.
But how can brands take advantage of the new content consumption wave's "boom"? In May 2020, MetaX Software, specialized in this advertising segment, officially launched its CTV advertising business and started operation in Brazil, led locally by Vanessa Delgado, former Omnicom director, acting as its Senior VP Business Development for the country. as its Senior VP Business Development for the country.
"TV is still relevant here, but we're going through an era of reinvention of this media. TV consumers today are changing their way of watching and interacting with TVs and hence TV has been playing a role more and more different from the past", she states, pointing out data, targeting desired-audiences and more interactive creatives as major benefits CTV advertising offers. "With CTV, TV becomes conversion media, not only awareness. You insert a QR code into the ad and it enables the audience to conclude a purchase."
Smart TVs, game consoles, on demand and streaming devices from OTT players are very well known by MetaX's engineers, explains the company founder and CEO, Ye Wang. From Shanghai, the executive talked about his expectations for the operation in Brazil, the new opportunities for advertisers and the future of connected TVs.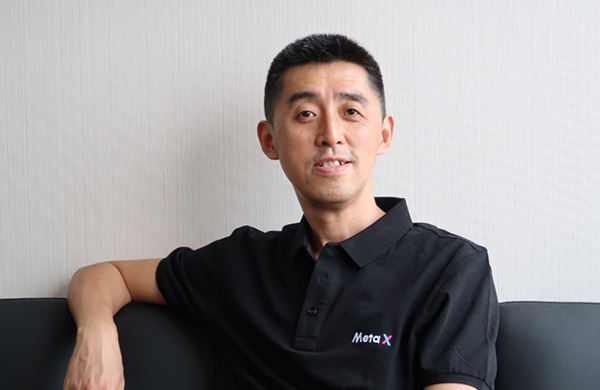 Ye Wang, CEO of MetaX
CTV advertising presents new challenges for brands, agencies, publishers and content providers?
For sure, once CTV advertising is very different from mobile advertising, for example. Within mobile there are only two categories that matter: Android and iPhone. This makes everything easier for the entire advertising ecosystem.
CTV, on the other hand, is extremely fragmented, so technical competence is crucial. There's always a chipset embedded in every CTV device, and these chips differ a lot. Without technical knowledge, you can't integrate CTV advertising platforms and the hundreds of different device types.
We had a strong history of partnership with the industry's main brands and manufacturers around the world. This way, we've developed expertise about smart TVs and set-top boxes embedded systems.
What are the main advantages of CTV advertising?
Access to a large audience is one. There is an expanding number of TV households that have adopted CTV, and projections estimates that they will grow 82% by 2023. Also, CTV platforms are data-driven, they allow advertisers to track performance and evaluate metrics in real-time, easily getting higher ROI from each campaign.
Compared to PC and mobile, CTV advertising is highly appealing for brands, characterized by strong exposure and 100% viewability when it comes to full screen videos in large screens. CTV display and audio qualities are incomparable to any other home device.
Besides the premium ad quality, there's the creative formatting: CTV enable immersive, meaningful, engaging experiences for the audiences. And MetaX provides a full-range of ad placements: in-system ads, in-app ads as well as in-content ads.
MetaX started to operate in Brazil in May 2020. What innovations the company intends to bring to the market?
MetaX is a pilot in integrating programmatic online advertising in CTV devices, covering the entire process and all scenarios of consumers' using large connected screens. Our technologies are data-driven, enabling advertisers to effectively target their desired audiences and identify specific clusters.
Another differential we have is the in-depth cooperation with the industry. Our engineers team knows deeply all the processes inside a TV system, from powering the TV on to browsing the menu, selecting an OTT application or switching to a different channel. MetaX can serve any device the appropriate ad, based on the brand, the demography, the screen size and the screen resolution.
What about your expectations for the Brazilian operation?
CTV advertising is quite new for Brazilian market, where it just starts to gain the early momentum. Brazil is much like China: it has a big market with a large consumer base, a fast-growing economy, a vibrant culture. It's easy to leverage successful CTV advertising experiences from China and, according to local needs, create specific services and content. In the future, we also aim to replicate this experience in other Latin America countries.
Why to choose Brazil?
Brazil is experiencing the boom, and one of MetaX main characteristics is to be creative, innovative. We like to find out a new potential field, develop new pilot-technologies and map emerging markets. I believe Brazil has all these elements combined. Plus it's one of the countries with the largest embedded systems-base for our ad formats, which assure us a strong initial commercial base.
We also collaborate with over 20 big clients among TV brands and manufacturers, and many of them have a strong presence in Brazil. We know it's necessary to understand the local market and co-build the ecosystem with industry players, so we've associated with IAB Brazil.
Programmatic transactions soon will also take over TV?
Programmatic in general will only grow even more in the future, and today it's mandatory to do something to follow the change. Why it'll continue to grow? Programmatic media ensures a large base of target audiences and increases campaigns' efficiency. Processes are completely checkable, there's transparence from the beginning to the end. A third point is that campaigns management systems are easy to use. Our data-driven tools enable advertisers to adjust campaigns focus and approach.
Can you share data that show the effectiveness of campaigns based on MetaX technologies?
Recently we provided a Covid-19 prevention campaign in Brazil. We wanted to collaborate somehow with the pandemic response. Within two weeks, the campaign reached 100.000 households across Brazil. With 100% viewability on large screens, 86% of consumers found the 30-seconds advertising video useful to them and 83% said they are willing to see more campaigns on their CTV devices. There was also 20% of click through rate of the configured landing page, and 92% of households finished watching the whole video without skipping. All the data were real-time and transparent which clients most concern.
Will Covid-19 impact TV consumption?
People are spending much more time watching TV and interacting with their smart TVs. We have been getting lots of requests from Brazilian clients from specific segments — fitness services providers, online video, streaming, delivery providers. Consumption is switching to a more household consumption, and domestic habits increase the exposure to the house's large screens.
How will future connected TVs look like?
They will evolve a lot within a very short period of time. Lots of users still rely on remote control, which is not user-friendly, it doesn't encourage interactions. But we'll see lots of progress in the coming years: embedded cameras, NFC, voice recognition detectors. Smart TVs will be integrated to devices like Alexa and will become much smarter, enabling users to easily interact. All of these will have great impact in advertising and it will change the whole outcome of TV advertising.
In the future, TV advertising will follow this way?
CTV is data-driven, it enables agencies to access in-depth insights about consumers. You detect the user profiles and target campaigns by brand name, screen size, screen resolution, geographic region. Due to the remarkable attributes of the large screen, it's possible to reach the audience with full screen videos, which are more appealing and increase the campaign's performance.
Our technologies allow retargeting users in several devices, in compliance with local laws and regulations, and the dynamic ad insertion will play a more and more important role. Another recommended practice is to add a QR code on advertisement to increase user interaction, once users like to interact with their mobile devices. In the future, MetaX will bring new ad formats like interactive advertisement during a video playing, cross-screen advertisement and dynamically replaced advertisement during broadcasting.
CTV on the rise
According to Ye Wang, CTV advertising market gained 330% rise in programmatic transactions in 2019 and 232% rise in CTV apps that support this advertising model over the last 18 months (Data source: Pixalate). In the US, one of the pioneer countries in adopting the model, CTV annual spending will surpass US$ 10 billion by 2021 and grow up to US$ 14 billion by 2023 (Data source: eMarketer). In Brazil, there are over three million CTV devices, including smart TVs and connected set-top-boxes, which means MetaX's CTV Ads Platform effectively reaches a ten million people local audience by far — considering each TV reaches in average 3.5 people. This number continues to grow, in millions, year by year. And Brazil is a very TV country. The difference, now that internet is on TV, is that the audience can choose their favorite contents to watch whenever they want to.
Source: Meio&Mensagem